The Powerpuff Girls je crtana serija koju je stvorio Craig McCracken (srb. Krejg Mek Kreken), a premijerno se emitovala na kanalu Cartoon Network od 1998. do 2005. godine. Godine 2006. dobila je i svoj prvi spin-off rađen u anime stilu, Powerpuff Girls Z.
Originalna serija
Edit
Radnja originalne serije počinje tako što profesor Utonijum pokušava da kreira "perfektne male devojčice", koristeći mešavinu "sugar, spice and everything nice" - u prevodu "šećera, začina i svega što je dobro", međutim slučajno stavlja elemnt nazvan "hemijski X", pa umesto "perfektnih malih devojčice", on napravi tri superheroine - Babls (eng. Bubbles), Bluzam (eng. Blossom) i Baterkap (eng. Buttercup) koje mogu da lete, imaju supersnagu, superbrzinu itd. One moraju da se bore protiv sila zla, ali njihov najveći neprijatelj je otkačeni majmun Moudžo Džoudžo (eng. Mojo Jojo) koji kreira muške verzije Babls, Bluzam i Baterkap koje sebe nazivaju "Powerpuff Girls".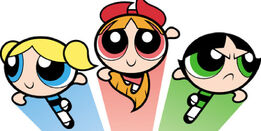 Anime spin-off
Edit
Nastojeći da zaustavi ekološku katastrofu, ogroman lednik koji se priblažava Tokio Sitiju (eng. New Townsville), Ken Kitzawa Utonijum, sin profesora Utonijuma, koristi elemnet "hemijski Z", ali on prouzrokuje da se x-ray zrake nadviju na Tokiom i tri sasvim obične devojčice bivaju pogođene i dobijaju super moći. Bluzam postaje Hiperbluzam, Babls postaje Rolingbabls a Baterkap Pauered Baterkap. One moraju da zaustave Moudža Džoudža kao i u originalnoj seriji, ali sada uz pomoć Kena koji je i prouzrokovao sve nevolje.